Hatsune Miku Gets Her Own Very Special Traditional Japanese Doll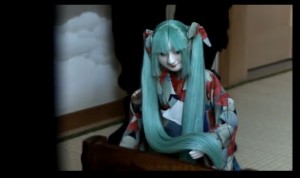 Vocaloid (ボーカロイド) may just be a singing synthesizer program but it has touched the world in more ways done one. Vocaloid users and fans alike experience a creativity overflow which results in dance tributes, original songs and mountains upon mountains of cosplay. Now, what do you get when Vocaloid's reach extends to ancient Japanese culture? Vocaloid's leading lady, Hatsune Miku (初音ミク), now has her own Edo Marionette version!
Japanese puppeteer and representative of the Edo Marionette Group, Mitsuru Kamijo, has come up with a promotional video with an Edo Marionette patterned after Hatsune Miku. With her signature blue-green colored hair that falls past her knees, the Hatsune Miku Edo Marionette doll is clothed in a yukata fit for a marionette. The video runs for 4 minutes and 14 seconds which shows the Miku the Marionette preparing for and enjoying a play date with a young child. The video also shows lovely Japanese scenery as the video progresses. Before the video ends, it shows a bit of Miku the Marionette dancing.
An Edo Marionette is more than just a doll: dating back to 375 years, the Edo Marionette Doll was a part and a witness of the Japanese culture during the Edo period (江戸時代). More popularly known as the Tokugawa Period (徳川時代), the Edo Period greatly enjoyed their art and the Edo Marionettes have joined the unforgettable ranks of Japanese traditional culture such as woodblock prints, haiku and kabuki. The original video was uploaded by Kotaru Fujiyama, both on Nico Nico Douga and Youtube, under the "Summer in Japan" category.
Enough chatter from us! Watch the video below and witness how the past and present Japanese cultures collide to bring you a very awesome Vocaloid find!