Hatsune Miku Inspired Keyboard Makes A Comeback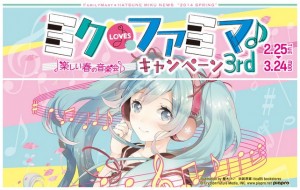 Hatsune Miku (初音ミク) has everything from racing cars to mp3 players and now to add up to the mountainous pile of Hatsune Miku inspired items is a keyboard for the musician in you! This keyboard has first made its appearance in the previous Miku Love FamiMa campaign as a prize but if you've missed it, now is your chance to finally own it!
Released by none other than FamilyMart (ファミリーマート), this teal and purple limited edition keyboard is produced by KORG (株式会社コルグ). The keyboard boasts 30 sound patches as well as 22Wx2 dual speakers. The keyboard also comes with a stand, a foot pedal and even a MIDI port! This Miku keyboard however will have a different panel design compared with the first keyboard introduced during the Miku campaign.
This Miku keyboard is priced at 69,800 JPY (679.01 USD) with tax already included. Ready to add this lovely piece of Miku-inspired instrument home? Then head on down to the Family Mart official website to place your pre-order! Schedule for the sale of this keyboard will be from May 26 to May 30 only so make sure you won't miss it! More details of the Hatsune Miku keyboard will be found in its specifications. If you've got a hand for making original Vocaloid music, now you have something to try out for yourself before you make them sing out loud!