Hatsune Miku Celebrates Miku Day!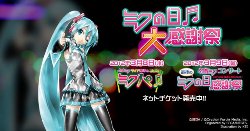 Hatsune Miku just keeps getting bigger and bigger and there's no stopping this twin-tailed Vocaloid from taking over the world!
On March 8 and 9, 2012, Hatsune Miku will be holding a concert in Japan which will also be broadcasted live via the website niconico.com. These live concert events are two different events but are all under the Hatsune Miku Special 39's giving day. On the 8th of March is the "Hatsune Miku Live Party 2012" while on 9th is the "Hatsune Miku Concert Final 39's Giving Day". Tickets are bundled which gives you the chance of watching both concerts and are available over the niconico website. The number "39", when read as separate numbers in Japanese, make up the words "San Kyu" which sounds like how the Japanese would say "Thank You".
Vocaloid concerts are done in 3 dimensional holograms but with real people playing the instruments. These are quite cool to watch and first time fans and viewers can find videos posted over the internet to have a good idea on how it looks, such as this one:
http://youtu.be/DTXO7KGHtjI
Grab your tickets online now and don't miss a chance to see and hear a feast for the eyes and ears as Miku sings her way to stardom and beyond!