Have A Happy Shingeki Holiday With New Roll Cakes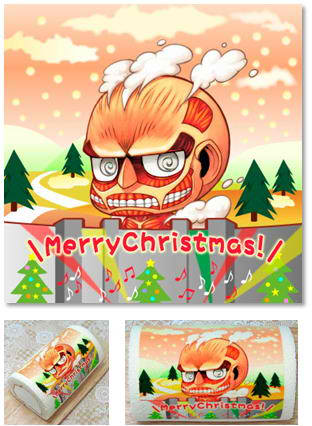 Not too long ago, a character stat list was released on the main cast of Shingeki no Kyojin (進撃の巨人) and it was found out that Lance Corporal Levi (リヴァイ) will be celebrating his birthday on the same date as Christmas Day so if you're a big fan of the 160 cm soldier who is as hell bent on eradicating Titans (巨人) as well as dust, do not miss out on Eitsu's brand new offering of Shingeki no Kyojin Priroll Cakes!
There are a lot of designs to choose from. The Levi cakes comes in a collage of photos of Levi while others come in pairs such as the Levi x Eren and Levi x Erwin cakes. If you think you can a Levi have a cake all to yourself, the Levi cakes are priced at 2,000 JPY (19.56 USD). Otherwise if you think you might want to have another heaping serving of more cake, get the doubles for only 4000 JPY (39.12 USD).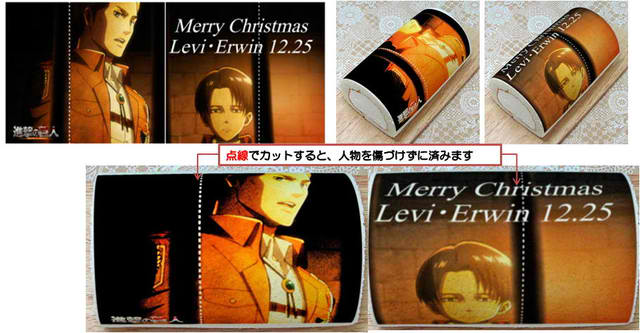 Just because it's Levi's birthday however, doesn't mean that the rest of the Survey Corps (調査兵団) and the Titans won't have their share on the Priroll Cake spotlight. Everyone gets chibi-fied in the next round of Priroll Cakes with eight (8) different designs to choose from. Eren (エレン・イェーガー), Mikasa (ミカサ・アッカーマン), Levi and the Colossal Titan (超大型巨人) have a chibi cake all to themselves as well as a couple of group cake with all of them found on the same roll. Other members of the 104th Corps Graduates have been divided into two groups and have their own cakes as well. Armin (アルミン・アルレルト) joins Mikasa, Eren and the Colossal Titan on another group cake while the Colossal Titan gets another solo cake, this time on his usual, regular size but sporting a Santa hat.
Reservations are currently entertained at the Eitsu Priroll website so make sure you grab one before they run out! Promo ends on December 10, 2013.