Hakkenden: Eight Dogs Of The East Comes Back For Another Season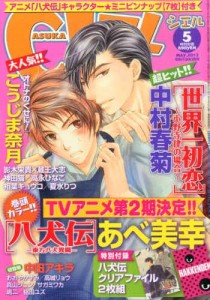 The first season of the anime series Hakkenden: Eight Dogs of the East (八犬伝 ―東方八犬異聞―) is slowly coming to an end but already a second season of the has already been announced. Fans of the series certainly won't be disappointed the minute the first season ends as there will be more episodes coming up!
The announcement of a second season for the anime was first announced on the May issue of monthly manga magazine, ASUKA CIEL. Fans don't need to look no further than the cover page since the announcement is printed just below the faces of the lead characters of Sekai Ichi Hatsukoi – World's Greatest First Love (世界一初恋 〜小野寺律の場合〜).
Hakkenden: Eight Dogs of the East is a manga created by Miyuke Abe and was first published on the year 2005. An anime adaptation of the series was recently made and with the first season on its final episodes, a second season is immediately announced and perhaps work has already been started.
Five years prior to the events that are taking place in the series, a plague wiped out the village of Ootsuka. Only three survivors remained and having no other place to go, the trio take refuge inside a church. Of the three survivors, Shino has power over the Murasame – the blade of life. Their lives ultimately change when the imperial church decides to take the Murasame for themselves.
What will happen in the second season of Hakkenden: Eight Dogs of the East? Stay tuned for more news and updates!