Gunpla-Yaki Udon Makes A Come Back At The Gundam Cafe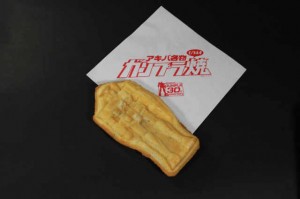 The Gundam Cafe isn't just a tourist spot. It's also a haven for foodies, regardless if they are fans of the anime of not. One of the most sought after food items in the Gundam Cafe is the Gunpla-Yaki. Based from the 1/144 scale of Gundam models, the Gunpla-Yaki is a popular snack choice. But what happens if the Gundam Cafe is celebrating a special event?
The Gundam Cafe welcomes back the Udon flavored Gunpla-Yaki in celebration of the Gundam SEED & SEED Destiny Fair on April 3, 2013. This special Gunpla-Yaki breaks the tradition of the sweet dessert the Japanese come to know and love and still come out as highly delicious. The Udon flavor was based on Andrew Waltfield from the Gundam SEED & SEED Destiny series who was eating away at a bowl of Kitsune Udon from the anime.
Gunpla-Yakis are similar to that of waffles. They have a baked, crispy shell made out of flour with something sweet on the inside. Regular Gunpla-Yakis come in flavors such as red bean paste or cream. In the case if the Udon flavored Gunpla-Yaki, the noodles and the deep fried tofu called oage take the place of the red bean paste or cream inside the shell.
Udon flavored Gunpla-Yakis are available starting on April 3 until May 29, 2013 for only 200 JPY (2.12 USD) each.For more information, please visit the official Gundam Cafe website at g-cafe.jp.