Retired Japanese Man Creates Gundam Paper Craft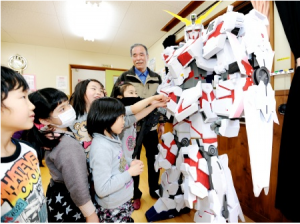 A 67-year-old man wowed children with his Gundam paper craft. The massive Gundam created by Uchida Seiji, a native from Fukui, Japan, stands at a massive 6.5 feet tall and is modelled after the Gunpla Unicorn Gundam.
Those who are unfamiliar with the word "Gunpla" might be confused and wonder which series this Gundam came from. Gunpla (ガンプラ) is a combination of the words "GUNdam PLAstic [model]". Gunpla commonly known as the act of building Gundams rather than the Gundams themselves.
Uchida gave his full attention to his hobby of making crafts after his retirement. His paper crafts includes air planes and robots and the more he invested his time in the hobby, the bigger the models got. When Uchida found an available blueprint of the UC Gundam over the internet, he decided to go for it. Two months and 600 pieces later, the UC Gundam was born. Uchida made small reinforcements in order for his Gundam paper craft to be portable and sturdy; lumber was added inside the Gundam and made minor arrangements concerning the parts.
The Gundam paper craft is put on exhibit at a community center in Fukui along with Uchida's other paper craft works.
First reported by Fukui Shimbun.