Gundam In The News, Vol. 2: A Moe Gundam Girl Figure, A Slew Of Tribute Art And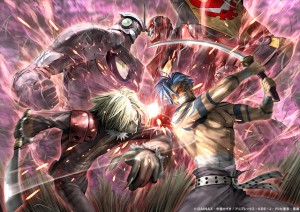 The Gundam series has spanned generations and is still a favorite among new and old fans. Asgard brings you Gundam In the News, now in its second volume and this week's news is spearheaded by the awesome Tengen Toppa Gurren Lagann (天元突破グレンラガン) tribute art.
You might be confused as to how this Gurren Lagann art have something to do with the Gundam series. Freelance illustrator Naochika Morishita (森下直親), who is known for his massive contribution to the Gundam franchise, used his talent in order to pen this awesome Gurren Lagann fight scene art between Kamina (カミナ) and Viral (ヴィラル). This fan art is featured on Gainax's weekly welcome illustration. Morishita's other works include Bloody Roar, Rangers Strike and many more.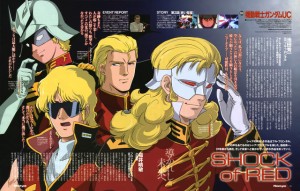 The latest Mobile Suit Gundam Unicorn (機動戦士ガンダムUC ユニコーン) trailer is out thanks to Youtube channel, AnimeChannel. The trailer features Full Frontal (フル・フロンタル), the main antagonist of the series. Known as the "Second Coming of Char", the blonde-haired Full Frontal leads the Neo Zeon with his face hidden behind a mask. Check out Full Frontal and the rest of Episode 6 on the trailer below.
http://youtu.be/7b2R_7hreYM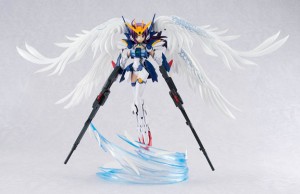 Gundam Girls always give a cheery appearance to a Gundam collector's display. The latest Gundam Girl is an Endless Waltz version of the Wing Gundam Zero. The adorable moe Gundam stands at 14 cm and comes with a set of weapons, namely a twin buster rifle and a saber, as well as three pairs of hands, different facial expressions and an effect base. Scheduled for release on May 2013, this lovely little Gundam Girl is priced at 5,500 JPY (60 USD).