GREE Inspires Another Anime Series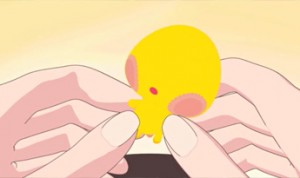 Pets have become the stuff of anime legends. Unforgettable titles such as Pokemon (ポケットモンスター), Digimon (デジモン) and even Cyber Team in Akihabara (アキハバラ電脳組) all have made us wish that the pets seen in those titles were real. Here comes another pet-themed series that's different from the rest. Enter Odoriko Clinoppe (踊り子クリノッペ).
Odoriko Clinoppe is the latest anime series inspired by a Japanese mobile game company/social networking site called GREE. Last year's GREE anime offering was also based on their game entitled Driland (探検ドリランド). Game-wise, Clinoppe is basically a virtual pet. It is a yellow, alien-like creature in appearance found in the mountains of India whose tiny size can make it possible for it to sit on the palm of your hand. The more you lavish Clinoppe, the more dances it can learn. Like today's latest virtual pet technology, players can let their respective Clinoppe's interact with each other.
In the anime, Onei-san is a lady who works at an office and in her care is a Clinoppe. Curious at how this anime will go? Check out Odoriko Clinoppe and see how this little creature will turn Onei-san's life upside-down and maybe inside-out. Get the game through GREE's official website and raise your own Clinoppe! While you're at it, check out this clip and you may just want a real, live Clinoppe.