Gon Gets An Animated Show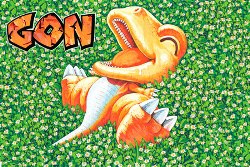 Last month, Avex has released a 32-second preview of a new television show called "Gon". The show is said to have replaced Gintama on April 2, 2012 in the very same timeslot.
To a strong majority of video game players, fans may be familiar with this tiny, orange dinosaur. But what some of them may not know is that Gon first started out as a manga character.
Masashi Tanaka gave life to Gon in a wordless manga that was published by Kodansha. It was published with a total of 7 volumes and won an award 1998. Tanaka won the Excellence Prize in the Japan Media Arts Festival. Gon may not have contained any hint of words except for the title but the art was a feast for the eyes.
Gon made his first appearance in the video game world with his own SNES video game. His video game appearance extended to Tekken 3 as he appeared as an unlockable character along with Doctor Boskonovitch. Players can unlock Gon by defeating him in Tekken Ball. Gon was famously known for his fire breathing, toxic farting, running tackle abilities. His height is often an advantage to some players since the regular Tekken roster could hardly hit him unless a certain combo was performed that could hit him that low. Finishing the arcade version of the game using Gon shows a continuous loop of an ending.
Tanaka has resumed his manga last month under the Monthly Afternoon magazine which is still under Kodansha. Check the preview below, although it may just tempt you to want to read the manga, play Tekken 3, watch the show – or just do all of those.
http://youtu.be/Gm65YfRQ_Kw