Girls Und Panzer In The News: A Cafe Collaboration, A Tourism Project And A Tribute Art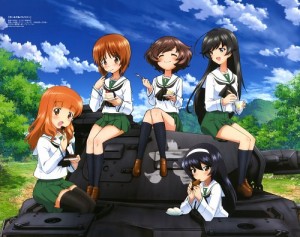 What happens when riding and operating tanks becomes a traditional martial art with a team of moe girls taking on the these massive fighting vehicles? You get Girls und Panzer (ガールズ&パンツァー)! Asgard Anime brings you the latest Girls und Panzer news locked and loaded in this week's edition of In the News!
If you've followed Girls und Panzer for awhile now, you certainly won't be mistaken that the anime takes place in Oarai (大洗町), a town located in Ibaraki, Japan (茨城県). Luckily enough, Oarai Creative Management has formed a partnership with Girls und Panzer in order to promote tourism in their area. This came about from the contest the Japanese government has held, specifically from the Japan Tourism Agency. The Japan Tourism Agency has recently announced the winners of their contest called Imashika Dekinai Tabi ga Aru (translated as The trip you can go only now) and Oarai Creative Management was one of the chosen three winners of the Encouragement Prize. The results were announced last June 19 and the awarding ceremony is set for June 26. What will Oarai Creative Management have in store for Oarai visitors? Stay tuned and Read up more about this exciting news through the MLIT website!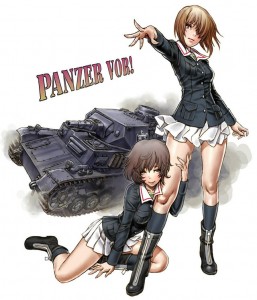 Japanese illustrator, Shunya Yamashita, is a widely known for his contribution of character designs in the Kotobukiya line of figures. Yamashita has created a Girls und Panzer tribute art (shown on the right) in celebration of the release of the final volume of Girls und Panzer. He also posted photos of his tank models on his Twitter account. Follow Yamashita in Twitter by clicking here.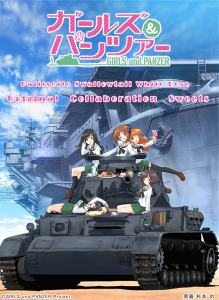 Patisserie Swallowtail White Rose has formed another collaboration with Girls und Panzer to bring you a whole new set of cakes and pastries. Enjoy your afternoon away with a Girls und Panzer Darjeeling tea with Orange Pekoe cookies with your for favorite characters on them for only 1,050 JPY (10.74 USD). If that's not your thing, try their pastries shaped like tanks for only 1575 JPY (16.11 USD) and in two variants: a chocolate-based tank and a lemon with pie and macaroon. For more information, as well as mouth-watering photos of their food, visit the Patisserie Swallowtail White Rose website.