Gigantic Lance Of Longinus Speared In Tokyo SkyTree Town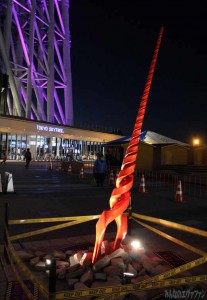 If you were part of the many who wanted to catch up on the latest Evangelion 3.0 movie, or just a last minute Christmas shopper, you probably ran into this gigantic Lance of Longinus (ロンギヌスの槍) speared right in the street of Tokyo, specifically at the Tokyo SkyTree Town commercial complex. This Lance of Longinus replica was erected for the Evangelion 3.0: You Can (Not) Redo's screening and looks highly realistic, not only because of the rubble surrounding it, but it really pierced right through the street!
The enormous Lance of Longinus isn't the only Evangelion eye feast you'll see. As part of the Eva Caravan Shogo-ki Kyoka Keikaku or the Eva Caravan Unit 01 Reinforcement Project, the exhibit also shows the Eva Unit-01 statue as well as an Evangelion-inspired Torii gate. This special Eva exhibit was made in partnership with Nico Nico Douga and is part of the Eva promotional tour.
Based on Christian beliefs, the Lance of Longinus was a weapon used to spear the side of Jesus Christ as He was hung on the cross during His Crucifixion. Evangelion's take on the Lance of Longinus is an artifact that can rob god-like beings of their powers. It is also known to penetrate A.T. fields of any form.
Don't miss this opportunity of seeing this massive Lance in the streets of Tokyo!