Special Sword Art Online Game Offers Players A Date With Asuna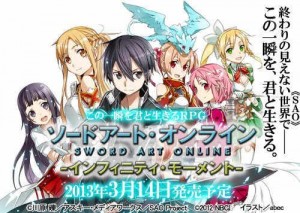 Sword Art Online (ソードアート・オンライン) is one of the hottest anime titles to date and thanks to Namco Bandai (株式会社バンダイナムコゲームス), a majority of the male fans will finally get to live their dreams of dating female protagonist, Asuna Yuki (結城 明日奈), and more.
Namco Bandai has come up with Sword Art Online: Infinity Moment. The special, limited edition of this game is packed with a limited edition box, two DVDs consisting of a two-part Infinity Moment Special Content, a cd which contains the soundtrack, a special booklet and to top it off, a special custom PSP theme. To make things more interesting, the game has more appearances from SAO characters Lizbeth (リズベット) and Silica (シリカ). Of course, the fans would probably go after the limited edition version because of the Together with Asuna – Aincrad Date Chapter DVD feature. This allows players to actually go on a date with Asuna.
Sword Art Online began as a light novel written by Reki Kawahara. It was serialized by ASCII Media Works in April 10, 2009 and is still an ongoing series with currently 10 volumes to date. Abec is the illustrator behind Reki Kawahara's popular light novel.
Sword Art Online: Infinite Moment will be available on March 14, 2013 in Japan. The limited edition is priced at 9980 JPY (125 USD) while the standard edition costs 6280 JPY (78 USD).
If some die hard SAO fans are getting the limited edition package, we wouldn't be surprised if news spreads that someone will be marrying a video game character.
Check out the video below to get a preview of the game!
http://youtu.be/393vWcspnos