Free Fan Vandalizes Japanese Shrine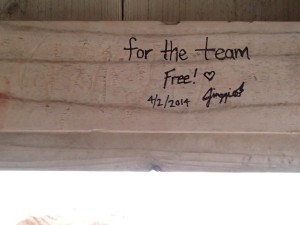 On April 6, 2014, the Iwami-cho Tourism Association has reported via Twitter that the section of the Arasuna Shrine has been vandalized with the words "For the team Free! 4/2/2014". The Arasuna Shrine, one of the famous shrine's in the Tottori Prefecture, has been featured in the anime Free! which has helped in gaining visitors of the area as a part of their seichi junrei (聖地巡礼) – the visiting places which have been used as a background to famous scenes in anime, manga, movies or TV soaps.
The inked words, written by using an oily pen in black, have caused anger from other fans with comments ranging from a shocked "It's unbelievable" to an extreme "Whoever wrote it, I want to curse you." It was found by fans on the 4th of April in the shrine's observatory. The writing was sized at a highly noticeable 5 cm x 10 cm and was thought to be made by a foreign fan. The vandal also comes with a signature affixed near the date.
Unfortunately, this vandal did not come alone. On April 9, another vandal has been found with the words "I only swimm Free" written in red ink as reported by Mainchi. "The coast area of the town has been designated as a national park of Japan," The Iwami-cho Tourism Association has said. "To keep the scenery beautiful, please stop the scribbling."