Takeru Satoh Fills In Fans With Behind-The-Scenes Info On The Final Scenes Of Rurouni Kenshin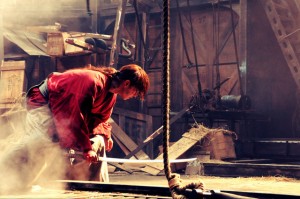 Japanese actor Takeru Satoh (佐藤 健), who brought the legendary red-haired samurai with the cross-shaped scar to life with his role as Kenshin Himura (緋村 剣心) in last year's highly acclaimed live-action take on Rurouni Kenshin (るろうに剣心 -明治剣客浪漫譚-), has shared with fans his experience as well as a bit of information with the final scenes of the second installment of the Rurouni Kenshin movie.
In his official website, the 24-year-old actor has posted a few photos of the scenes they were filming and has shared that the whole of the cast and crew are working hard as the final scenes of the film are bring on the climax the same way as it did in the anime and manga. Satoh, who made his acting debut in Kamen Rider Den-O (仮面ライダー電王) as the main character Ryotaro Nogami (野上 良太郎), admitted that he is covered in wounds but tells that everyone is giving it their best.
The second Rurouni Kenshin live action movie will focus on the Kyoto Arc. In the Kyoto Arc, Kenshin meets head on with Shishio Makoto (志々雄 真実) and the Juppongatana (十本刀). Relationships both old and new resurface in the Kyoto Arc with the Oniwabanshu (お庭番衆) revived and lead by the young ninja named Misao Makimachi (巻町 操). Kenshin teams up with Sanosuke Sagara (相楽 左之助) once again, and this time with Saito Hajime (斎藤 一) giving them a hand, and together they make their way to Kyoto in order to defeat Shishio.
The Rurouni Kenshin films have two more movies left with Rurouni Kenshin: Kyoto Taika-Hen (るろうに剣心 京都大火編) as the second installment and Rurouni Kenshin: Densetsu no Saigo-hen (るろうに剣心 伝説の最期編) as the third. Both movies are scheduled to be released next year.