Final Episode Of K Hints On A New Season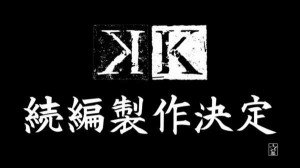 Fans of the anime series, K, can breathe a sigh of relief. In the 13th and final episode, this simple black image was shown. It is confirmed, however, that a second season is already in production.
Directed by Shingo Suzuki (鈴木 信吾) and produced by Japanese animation studio, GoHands (ゴーハンズ), K was first released in October 4, 2012 in Japan. Eventually, the anime swept through Asia, North America and Australia.
K tells the story of Yashiro "Shiro" Isana (伊佐那 社). A normal high school boy who goes to Ashinaka High School – a school built entirely on a separate island. Shiro runs an errand for his friend and classmate, Kukuri Yukizome (雪染 菊理) but gets into a run-in with members of the Homra Clan who are apparently after his head. Shiro was saved by the Black Hound (黒狗), Kuroh Yatogami (夜刀神 狗朗). Kuroh is a highly skilled swordsman who later starts to hunt him. The highly confused Shiro saw a video which clears up the matter: the clip shows the "Colorless King" shooting a man dead. Guess who the Colorless King looked like? Each K episode's title is a word that begins with the letter K.
Excited? Check out the Twitter post that brought about the good news here. For more information, head on down to the official K websites. Click here for Japanese website or here for the English version.