Faylan And Yousei Teikoku Teams Up Again For Another Anime Series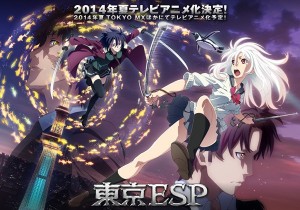 July seems to be a very promising month of great anime lineups including the anime adaptation of Hajime Segawa's (瀬川はじめ) action sci-fi manga, Tokyo ESP (東京ESP). To make this series even more lasting are the opening and ending themes and Japanese artists Faylan (飛蘭) and Yousei Teikoku (妖精帝國) have got you covered as the two will respectively perform the songs of the anime's credits.
This news was announced by Amazon Japan. The site has already shown the list of the themes with Faylan singing Tokyo Zero Hearts as the opening theme. Yousei Teikoku will be providing the ending theme but the song title has yet to be revealed. If you're a hardcore anime junkie and the names Faylan and Yousei Teikoku sound familiar, both Japanese artists have sang the themes for Katanagatari (刀語) and Mirai Nikki (未来日記).
So what's Tokyo ESP all about? Rinka Urushiba (漆葉 リンカ) stars in the first arc of the manga. Living alone with her father with their lives in severe poverty, Rinka was forced to get a part-time job as a waitress to support their daily needs. One day she spots a mysterious flying penguin named Peggi (ペギー) together with glowing fish in the sky. One of the fish comes into contact with Rinka which gives her extrasensory perception or ESP. Watch out for Tokyo ESP on July!