Family Mart Holds A Hatsune Miku Lottery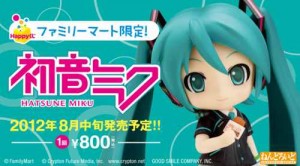 Japanese convenience store chain Family Mart (ファミリーマート) is holding a lottery called the Hatsune Miku Happy Summer Kuji. The prizes have been recently announced and they are more than enough to make a Vocaloid fan go wild.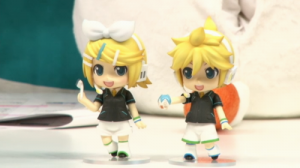 The prizes are classified into eight different categories plus a special Last category. A prize are Hatsune Miku (初音ミク )Nendoroids in Mizugi version and a special Family Mart version; B Prize is a Rin Kagamine (鏡音リン) Family Mart version and her brother, Len Kagamine (鏡音レン)takes C Prize who is also donning the Family Mart uniform; D Prize is an ultra adorable Hatsune Miku Marukunaru tissue cover; E prize is a soup curry bowl collaborated with Magic Spice.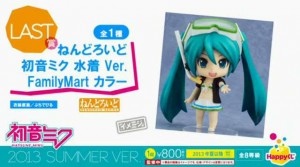 F Prize is a simple, stationary set with three different designs done by Miyuki Harada, KEI and Putidevil respectively; G Prize is a tote bag set that comes with two pin badges; H Prize is Hatsune Miku GraFig; Last but definitely not the least is the Last Prize category which features a Hatsune Miku Mizugi Nendoroid in the colors of Family Mart. If the prizes are already tempting you, head on down to the nearest Family Mart and you just might be lucky enough to win any of these goodies. You only need 800 JPY (7.87 USD) to enter in this lottery! Click here to see more photos of the prizes.