Evangelion X Hello Kitty, Anyone?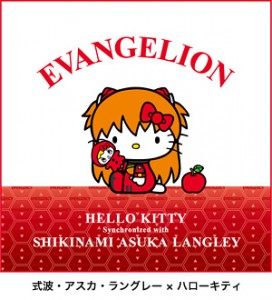 Sanrio has announced that they will be in partnership with anime Evangelion to create "Evangelion X Hello Kitty". The Evangelion X Hello Kitty is a line of products that would range from accessories to clothes. The collaboration between the two gigantic faces of Japanese culture celebrates the latest, upcoming Evangelion film.
Neon Genesis Evangelion is a mecha anime that began in 1995. Its apocalyptic theme also dabbles with religion, philosphy and even psychoanalysis. Shinji Ikari is the main protagonist of the series who pilots a gigantic humanoid robot called an Evangelion to protect Tokyo-3 from Angels. Shinji Ikari however is not alone. Rei Ayanami and Asuka Langley Soryu are his fellow pilots.
The quite and withdrawn Rei Ayanami, with her short blue hair, pilots the Evangelion Unit 00. Half-German, half-Japanese Asuka Langley Soryu, on the other hand, with her long mane of orange hair and signature red hair accessories pilots the Evangelion Unit 02. The Evangelion X Hello Kitty art that surfaced on the internet shows Hello Kitty dressed up as Rei Ayanami and Asuka Soryu, complete with the wigs and body suit.
The Evangelion X Hello Kitty products will be released in May this year and will be first released by 10 companies. Fans of Hello Kitty or Neon Genesis Evangelion should never miss this great line of memorabilia. It is the perfect merchandise to add to one's Hello Kitty or Anime collection.
Stay tuned for updates on the Evangelion X Hello Kitty products!