Evangelion In The News: Latest Asuka Figure Offering, A Comic Tribute And Eva Karaoke Rooms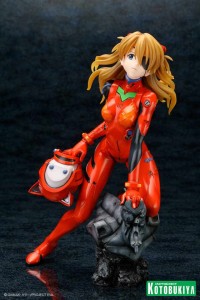 Because the world just can't seem to get enough of Neon Genesis Evangelion (新世紀エヴァンゲリオン), Asgard's back to dish out the latest Eva news with Evangelion in the News. This week we have an awesome comic tribute, an Eva karaoke room and a way cool Asuka (アスカ) figure.
Kotobukiya (コトブキヤ) is at it again with their latest Evangelion entry that's drool-worthy. The Japanese company known for their exquisite figures uploaded photos of over at Facebook over their Ani*Statues series and eye-patch girl Asuka Langley Shikinami (式波・アスカ・ラングレー) of Evangelion 3.0 graces their line which is set for release on July 2013. This lovely figure of Asuka stands at 8 1/2 inches tall and is draped in her signature plug suit. For more photos and updates, head on down to Kotobukiya's Facebook Fan Page.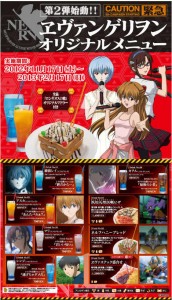 If you're a hardcore Eva fan, you should not miss out on this one. Thanks to Animate TV, we take a closer look at the special NERV Shibuya Branch brought to us by Shibuya Station South Exit JOYSOUND. The karaoke bar features rooms based on the Evangelion 3.0 movie and it's not only the rooms that are inspired by the anime but also the food and drinks! The menu boasts drinks bearing the shades of the pilots as well as the Eva units they use to fight off Angels. Learn more about the NERV Shibuya Branch karaoke rooms by visiting JOYSOUNDS official website. Visitors may not look any further for the said Karaoke bar; JOYSOUND is located near the South Exit of Shibuya Station.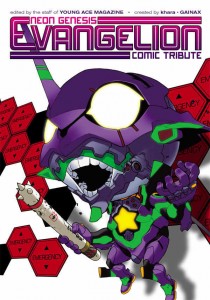 Dark Horse Comics fills in your comic book collection and your Eva needs with thi super special comic tribute! Featuring various manga artists, the Neon Genesis Evangelion Comic Tribute features reknown manga artists such as A.D Police's Tony Takezaki (トニーたけざき), Yun Kouga (高河 ゆん) of the Loveless (ラブレス) fame and The Legend of Koizumi's (ムダヅモ無き改革) Hideki Ohwada (大和田 秀樹) just to name a few. This ragtag team of manga artists are lead by none other than Sergeant Keroro's (ケロロ軍曹) Yoshizaki Mine (吉崎 観音). Curious as to how this would all lead? Click here to check out a preview of the one-shot mangas.