Eiichiro Oda Adds Rurouni Kenshin To His List Of Tributes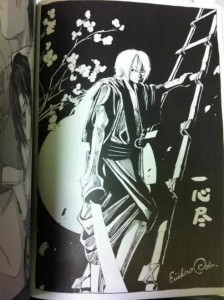 You may have probably known Eiichiro Oda (尾田 栄一郎) because of the hit anime/manga franchise, One Piece (ワンピース). What you may have probably missed out is the fact that Oda, 37, once worked as an assistant for Nobuhiro Watsuki (和月 伸宏) who was working on Rurouni Kenshin (るろうに剣心) at that time. The then 19-year-old Oda inspired and was credited for the creation of Rurouni Kenshin antagonist, Kamatari Honjo (本条 鎌足). Recently, Oda created a Rurouni Kenshin tribute that was not entirely received well with the fans.
While majority of the fans say that Oda's Kenshin tribute looks more like Zorro than Kenshin, Oda replies that his rendition of Kenshin looked like the live action version in which the role of Kenshin was filled in by Japanese actor, Takeru Sato (佐藤 健).
Born on January 1, 1975, Oda was greatly inspired by Dragonball creator Akira Toriyama (鳥山 明) and dreamed of become a manga artist himself. Over time, his interest in pirates began to build, thanks to TV animation Vicky the Viking (小さなバイキング ビッケ). When Oda was 17-years-old, he submitted his first work entitled Wanted! which garnered a number of awards including the Tezuka Award in which he bagged second place.
Thanks to Wanted!, Oda landed a job in Weekly Shonen Jump as an assistant of Shinobu Kaitani (甲斐谷忍) who was then working on Suizan Police Gang. After assisting Kaitani, Oda became Masaya Tokuhiro's (徳弘正也 )assistant. Working on Jungle King Tar-chan (ジャングルの王者ターちゃん) has helped Oda in developing his signature art that we know today. After Jungle King Tar-Chan, Oda worked with Watsuki on Rurouni Kenshin. Without Oda, there would be no Kamatari.
While working for Watsuki, Oda began working on pirate-themed manga shorts. One such title is Romance Dawn which was Monkey D. Luffy's (モンキー・D・ルフィ) first appearance. Not long after, Monkey D. Luffy landed the spot as protagonist for One Piece. 1997 was the year when One Piece first made its debut. Since then, it has become one of the best anime/manga franchises the world has ever known.