Dragon Quest Slime Transformed Into Edible Treat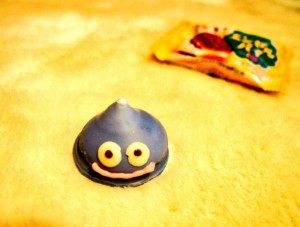 Is this too cute to eat or you just don't want to touch it because it looks like something other than food? Worry not, it is edible and it just might want you come back for seconds, thirds and so on until you finish a whole pack. Morinaga & Company (森永製菓株式会社), one of Japan's best loved confectionery manufacturers who gave us DARS Chocolate, is giving their Angel Pies a Dragon Quest (ドラゴンクエスト) make over featuring none other than the face of Dragon Quest, Slime.
The chocolate covered marshmallow that makes up an Angel Pie now sports a cute googly-eyed, tear-drop appearance. It also comes in different colors like brown, red and green just to name a few in an exact manner as that of the game. In the game, Slimes are often antagonists and some would appear as a boss. However, there are also good Slimes who reside in villages as non-playable characters (NPCs).
This special Slime-shaped Angel Pie is a tie-in promotion with Dragon Quest X: Rise of the Five Tribes Online (ドラゴンクエストX 目覚めし五つの種族 オンライン) the latest installment of the famous RPG franchise. Yosuke Saito (齐藤 阳介), the producer of Dragon Quest, has ecstatically said that the Angel Pie is "a candy I've loved since I was a kid!". Grab some Angel Pie Slimes so you can have something to munch on while playing the game!