Dragon Nest SEA Hits 3rd Anniversary Mark With Three-Month Long Celebration

The biggest MMORPG to have ever swept the world, Dragon Nest, is celebrating it's 3rd anniversary in South East Asia and there's no other celebration as big as this! Dragon Nest SEA is hosting a 3-month long event that started on August 1 and will end on September 9 with a variety of different events catered especially for every die hard DN player!
The first birthday event under the 3rd anniversary celebration banner is the Tag and Share the Joy on Facebook event. Held on August 1 until August 8, all players had to do was be part of an 8-man party and have a screen shot taken with the greeting "Happy 3rd Anniversary Dragon Nest SEA!". Players who took part on that event received a cool Take Photo Gesture so their Adventurers would pose for a photo once the gesture is pressed. Missed out on this one? Don't fret! Here are more events lined up just for you! Read up more on the Tag and Share the Joy on Facebook event here.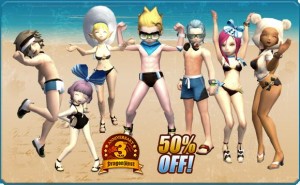 August is the month for costumes, costumes and more costumes! This month's limited edition Summer 2014 costumes have already been released and it comes with an electrifying weapon set for only 42,000 CC. Spend at least 15,000 CC in the Cash Shop and you'll get a 50% discount coupon for the 2013 Summer costume! This event kick started on August 12 and will end on September 3. Read up more on the Summer Swimsuit Costume Sale here.
Made a mistake with your character's skill build? Do you have extra items you want to sell off in the trading house but your inventory is low on seals? Fear not for the 3rd Anniversary Super Sale is right here just for you to help you with your dilemmas! Grab some awesome items at prices you can afford like a batch of a hundred pieces of Seal Stamps for only 6,630 CC and even a Skill Initialization Scroll for only 4,590 CC! Read up and check out other items up on sale here. The Super Sale started on August 12 and will end on September 3.
More events are coming your way so visit the 3's A Party Dragon Nest SEA 3rd Anniversary page for more info and schedules. As for me, I'm grabbing a few stamps and a skill reset. How about you?