Doushitemo Furetakunai Yaoi Manga Goes Into Film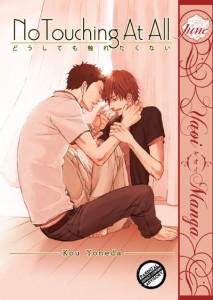 Doushitemo Furetakunai (どうしても触れたくない) fans, rejoice! Your favorite boy love manga is going from the pages of a comic book and into a live-action film!
So how does the story go? Also known as No Touching at All follows the life of Shima, a shy young man who is on his first day at work in a brand new job. While riding an elevator to get to his floor, Shima is joined by another man named Togawa who bears an extreme hangover – proof that he has been haplessly drunk the night before. Togawa turns out to be his boss and his cold exterior puts the newbie on edge which reminds the poor lad of the reason why he left his previous job. To Shima's intense surprise, Togawa extends his friendship towards him and it didn't take long for Shima to develop feelings for his boss.
Kou Yoneda's (ヨネダコウ) manga-turned-live action-film will star RUN and GUN's Kousuke Yonehara (米原 幸佑) as Toshiaki Shima. Together with Yonehara is Masashi Taniguchi (谷口賢志) as Yosuke Togawa. Doushitemo Furetakunai is Japanese director Chihiro Amano's first feature film. How will this turn out? Check out the trailer below to see a glimpse of this must-see movie for yaoi fans.