Devilman Wakes You Up With FULL THROTTLE Coffee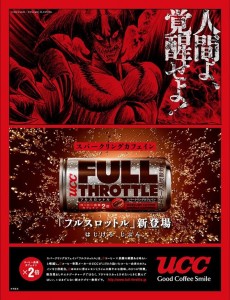 "The Human Race, Wake Up!"
Need something extra strong to perk you up in the morning? Then let Devilman (デビルマン) do the job for you! Go Nagai's (永井 豪) masterpiece is featured in the UCC Ueshima Coffee called Full Throttle. The carbonated coffee drink in 190 ml, which has double the amount of caffeine (known to be 120 mg), is a sure fire way to keep you perky and energetic the whole morning through! Who wouldn't be after a double dose of caffeine and Devilman?
FULL THROTTLE has been in stands in Japan since May 19 and has an commercial to boost its popularity. The 15-second commercial shows Akira Fudo transforming into Devilman after a drink of FULL THROTTLE. You probably would be as strong as Devilman the minute you finish a single can! A single can of FULL THROTTLE costs 130 JPY (1.27 USD) which is nearly the same price as that of regular coffee.
Go Nagai has also been interviewed for the UCC FULL THROTTLE Coffee Drink. You can check it out here. If you're in Japan, drop on in in super markets or convenience stores that sell FULL THROTTLE and give this can a try. Check out the commercial below to see how FULL THROTTLE keeps Akira on his toes.
http://youtu.be/v39e5uQsby0