The Darkstalkers Rise Again With Darkstalkers Resurrection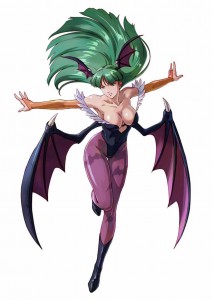 Good news comes to those who wait. Fans who have been waiting for a new Darkstalkers (ヴァンパイア) game will be pleased to know that Capcom (株式会社カプコン) has released an official announcement during the New York Comic Con saying that there will be a new Darkstalkers compilation game through the Playstation Network and Xbox Live.
Confirmed by none other than Yoshinori Ono (小野義徳) himself, the compilation game is entitled Darkstalkers Resurrection and contains the original Darkstalkers game, Darkstalkers: Night Warriors and the last entry, Darkstalkers 3.
If you think that Darkstalkers Resurrection is boring, think again. A slew of features have been added to this game to make gameplay even more fun and competitive. GGPO-technology has been added to the game to reduce lags that are common in online play. With the game in HD, it is rest assured that the graphics of the game are top notch. Saving your epic battles with online friends makes it easier with the Youtube replay uploading. Game related features are multiple viewing options, Spectator mode and Achievements.
A feast for the Darkstalkers fan's eyes added in the game is the all new Challenge mode which includes tips and tricks on how to maximize the potential of your favorite character. Couple that with the Digital Vault, which is full to the brim of Capcom's official concept art, videos and so much more.
Darkstalkers Resurrection just may be the springboard for a new Darkstalkers entry – Darkstalkers 4. Darkstalkers Resurrection is priced at 1200 Microsoft Points over the Xbox Live Arcade and 14.99 USD on the Playstation Network.