Danny Choo Develops Smart Doll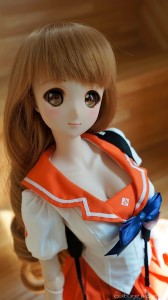 Here's a little something for all you doll lovers out there. Remember the Clamp (クランプ) manga, Chobits (ちょびっツ)? Wouldn't you love to have your own persocom (パソコン)? This guy just might be the answer to your prayers. True blue otaku Danny Choo, together with a team of talented experts in robotics, has developed the Smart Doll – a doll created to interact with its owner in a human-like manner.
Choo and his team are currently working on Mirai Suenaga (末永みらい), Choo's Culture Japan mascot. Now, here comes a question: how does the Smart Doll differ from a regular robot doll? "There are many folks in the robot community who have been building robots, but Smart Doll is different in two major areas – the robotics are completely hidden underneath the soft vinyl skin, and the unit is interactive." Choo said.
While Choo also wishes to have special dolls based from the anime, his focus is entirely on Mirai at the moment, seeing as his first Smart Doll is already 70% complete. Being an otaku, Choo knows what perfection and accuracy is all about. "If I do licensed anime characters, I can ask the original voice actress to provide recordings too." Choo said. "For now however I'm focusing 100% on Mirai which will be voiced by UTACO who sings Sukirai."
The current Smart Doll is made up of 24 servo motors which will allow the doll to move. Sensors are also included so the doll will be able to respond to the owner through touch, sight, sound and the like. Excited to have one for your own? Tune in for more updates and sooner or later, you just might have your very own Chi (ちぃ)!