Dandy Guy In The Space Inspires New Manga Series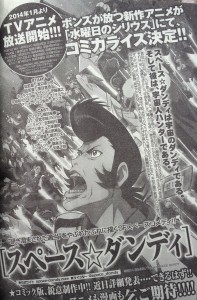 Space Dandy (スペース☆ダンディ), the Dandy Guy In The Space, has yet to be aired but it has inspired a manga series already! Kodansha monthly magazine Sirius (月刊少年シリウス) has announced the good news in their February issue. The Space Dandy manga will be featured under the Wednesday Sirius category over at Nico Nico (ニコニコ).
Space Dandy follows the adventures of Dandy (ダンディ) who roams around the galaxy in search of new alien life. Together with his sidekicks, yellow robot QT and alien cat Meow (ミャウ), Dandy scours the universe for different alien species so he can trade them in for money. The dude with the do that can rival even Elvis Presley's on a never ending quest for fame, fortune and… babes.
Produced by none other than BONES (株式会社 ボンズ) and directed by Shinichiro Watanabe (渡辺 信一郎) of the Cowboy Bebop (カウボーイビバップ) and Samurai Champloo (サムライチャンプルー) fame, Space Dandy will be available in East and West channels including Animax Asia and Adult Swim. On Adult Swim, Space Dandy will be aired on January 4, 2014 at 11:30 PM while Animax Asia will air the series at the same time as its release in Japan on January 5 at 11:00 PM. Check out the 90 second Toonami Space Dandy trailer below to see if this spankin' new series is up to your liking!