Heat Up Your February With Code Geass Hug Pillows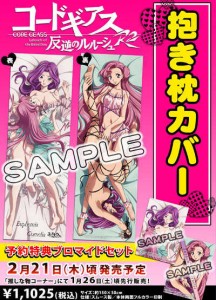 Anime goods shop, Movic, has something for the guys that's going to be worth the long wait. Movic has special Code Geass Hug Pillows up for pre-orders that's going to leave scorch marks wherever you leave it.
The pillows, scheduled for release on February 21, 2013, are designed with the Code Geass sisters, Euphamia (ユーフェミア リ ブリタニア) and Cornelia li Britannia (コーネリア リ ブリタニア) and doing naughty poses in bed while wearing revealing or . The pillow is sized at 150 x 50 cm and is priced at 11,025 JPY (130 USD).
Code Geass is actually the shortened name for the title Code Geass: Lelouch of the Rebellion (コーネリア リ ブリタニア). Directed by Goro Taniguchi (谷口 悟朗) and produced by Sunrise, Code Geass takes place in a time where the world is divided into three ruling powers: The Chinese Federation, the European Union and Britannia. Cornelia li Britannia is the older sister of Euphemia and is the second princess of the Britannian Imperial Family, with Cornelia as the third princess. Known for her skills in Knight Frame combat and for completing Area 18 shortly before reaching Area 11, Cornelia makes a dangerous enemy. Personality-wise, Euphemia is the polar opposite of Cornelia but the younger Britannia adores her older sister to no end. Both are half-sisters of Lelouch vi Britannia (ルルーシュ・ヴィ・ブリタニア).
Ready to place your order? Head on down to the Movic website so you can get your own Code Geass pillow!