Chou Anime Cafe – Spreading The Moe In Detroit

Imagine having a slice of Akihabara, Japan right smack in Michigan!
Chou Anime Cafe is the first ever maid cafe in Detroit and customers won't get enough of the uber moe maids as well as the great menu they have lined up!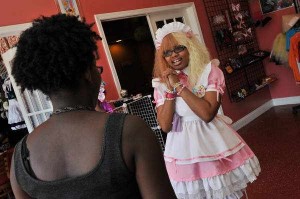 Chou Anime Cafe first opened in June and everything on their menu falls just below 7.00 USD! The maids, who do more than just wait tables, interacts with the customers and do activities such as play games for a small fee of 2.oo USD. The best part about Chou Anime Cafe is that it doesn't limit itself to being just a maid cafe: Chou Anime Cafe also offers anime and cosplay merchandise!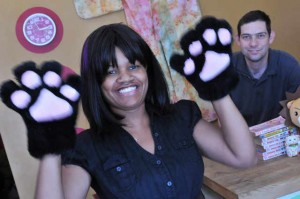 Owned by Oneka Samet, 35, this true blue otaku really knows her stuff when she opened Chou Anime Cafe. After a visit to Japan that ultimately changed her life, Chou Anime Cafe was born in her hometown of Detroit. "They're cute and girly and frilly, more like baby doll dresses as opposed to sexualized," Samet said on the intention of the maid costumes. Joe Samet, Oneka's partner in running the business, takes charge of the bookkeeping. "But this is really her thing." Joe said.
Maid Cafes are small restaurants staffed by young girls dressed up in maid costumes. Maid Cafe patrons or customers are then treated as the masters or mistresses of the "house". Although maid cafes are rampant in Japan, it has become a popular choice of franchise all over the world and Chou Anime Cafe is just one of the maid cafes found worldwide.
Chou Anime Cafe is located at 4206 Woodward Avenue, Detroit, Michigan 48202. You can also contact them by phone through this number: 00 1 313-638-2155. Chou Anime Cafe is open from Tuesdays to Saturdays from 11:00AM to 9:00PM. Check out their official Facebook Fan Page and don't forget to follow them on Twitter for more updates!