Chihuahuas Dress Up As Sailor Senshi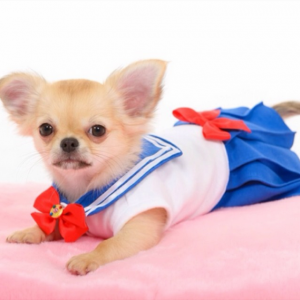 Now, who isn't excited for the brand new Sailor Moon (美少女戦士セーラームーン) series? The official Sailor Moon website started an eight-day countdown for the AnimeJapan trade show which showed phases of the moon which was then followed by an accidental image leak of the latest Sailor Moon anime which will go by the title of Sailor Moon Crystal. Japanese Moonie Mayama_Ya has uploaded her colorful Sailor Moon fuku outfits that are perfect for adorable chihuahuas on her Instagram account.
Mayama_Ya has tailored these chihuahua-sized clothing each in the famous Inner Senshi's uniform from Sailor Moon 's (セーラームーン) red, white and blue to Sailor Venus's (セーラーヴィーナス) orange, blue and yellow. In her Instagram profile, Mayama_Ya has also included working progress photos. Her photos also include being modeled by five different chihuahuas.
While many Sailor Moon fans hope that the brand new series will continue the Sailor Stars storyline, the new Sailor Moon anime will be a fresh take on the series which will be set entirely as what can be read in the manga. Fan hopes for the series include a better introduction of Sailor V (セーラーV).
Visit her Instagram and follow this massively talented dog lover for more updates! Watch the video below to see the Sailor Senshi pups in action.