Cake – One More Reason To Celebrate With Silver Spoon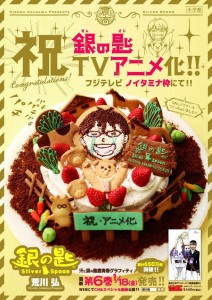 Silver Spoon (銀の匙) has been quite busy with its anime and manga promotions and one way of celebrating the franchise's massive success is through a delectable layer of decorative cakes!
Created by none other than Full Metal Alchemist (鋼の錬金術師) legend, Hiromu Arakawa (荒川 弘), Silver Spoon tells the story of Yugo Hachiken (八軒 勇吾). Believing that taking the easiest academic path will be easy, Yugo enrolls in Oezo Agricultural High School (大蝦夷農業高等学校). It actually turns out that the Agricultural path was more than what Yugo could take. Silver Spoon was based on Arakawa's experiences in her life in the dairy farm in Hokkaido where she was raised.
The cake promotion comes with a cute, stop-motion commercial, as it was announced in the latest issue of Shonen Sunday. While the cake was released in order to promote the manga's 6th volume, it could also serve as a promotion for the upcoming anime series which will be released on the noitaminA block.
For more information on Silver Spoon, don't hesitate to visit the official Silver Spoon website by clicking here. Check out the video below to see the commercial and be bowled over at how creative (and delicious) the cake is put together.
http://youtu.be/dr9ozmwGfr4