Brand New Virtual Idol Looking For A Voice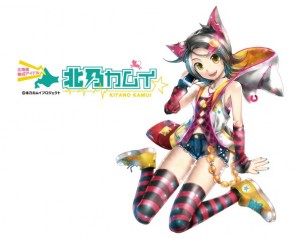 Another singing sensation hailing from Hokkaido, Japan will making waves soon but first she's got to have a voice! Enter Kitano Kamui (北乃カムイ). This adorable virtual idol that has a cat girl vibe to her was created on April 2013 and was designed by Hatsune Miku's (初音ミク) very own illustrator, KEI. An audition held last December was made as a part of the Kitano Kamui Project with a total of 94 applicants in attendance. From the 94 candidates, only 7 hopefuls made it and only one of them has a chance to bring Kitano Kamui to life with that unique voice! The names of the lucky 7 were announced during the Sapporo Snow Festival held last February 11.
The winner will be hosting a radio show on HBC Radio as Kamui Kitano planned to be on air soon. The official Youtube channel of HBC Radio has uploaded a 9-minute video featuring samples of the voice auditions of the 7 with an introduction by MAYU. Who has won your vote? Simply send your vote over the HBC Radio's email address, kamui@hbc.co.jp. Type in the number of your choice as well as your support and it already counts as a vote! Deadline of entries will be on February 28 so open your email provider and get going! Check out the samples right below. Read up more on Kamui on her very own website here.
http://youtu.be/hi_GQehe_r0