Brand New Sailor Moon Musical Ready For Summer Release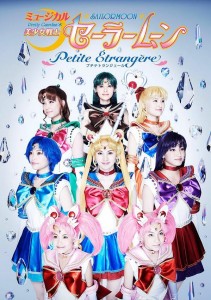 Sailor Myu (セーラームーン・ミュージカル) fans, are you ready? The latest installment of the Sailor Moon musical following Sailor Moon La Reconquista (美少女戦士セーラームーン La Reconquista), is just around the corner and Asgard Anime gives you a lowdown on the highly anticipated sequel, Sailor Moon Petite Etrangere (美少女戦士セーラームーン~Petite Étrangère~)!
The storyline of Petite Etragere takes place around Sailor Moon R (美少女戦士セーラームーンR) where Chibiusa (ちびうさ) was first introduced. Unforgettable nemesis of this series is the Black Moon Clan (ブラックムーン一族) led by the entrancing Prince Dimande (プリンス・デマンド ). In the anime and manga, Chibiusa returned to the past to retrieve the Silver Crystal (幻の銀水晶) to save Crystal Tokyo (クリスタル・トーキョー) but the Black Moon Clan has other plans and pursued Chibiusa.
Majority of the La Reconquista stars return for Petite Etrangere with Satomi Okubo (大久保聡美) and Yuga Yamato (大和悠河) back as Sailor Moon (セーラームーン) and Tuxedo Mask (タキシード仮面). Kanon Nanaki (七木奏音), Yu Takahashi (高橋優) and Shiori Sakata (坂田しおり) return to fill in their roles as Sailor Soldiers (セーラー戦士) Mars (セーラーマーズ), Jupiter (セーラージュピター) and Venus (セーラーヴィーナス) respectively. La Reconquista's Miyabi Matsuura (松浦雅) who played Sailor Mercury (セーラーマーキュリー) won't be present in Petite Etrangere and will be filled in instead by Momoyo Koyama (小山百代).
Joining in the cast are who are Kokoro Kuge (久家心) and Airi Kanda (神田愛莉) who are double casted as Chibiusa/Sailor Chibi Moon (セーラーちびムーン). Another prominent figure in the Black Moon Arc is Sailor Pluto (セーラープルート) who will be played by Mikako Ishii (石井美絵子).
Head on down to the AiiA Theater Tokyo on August 21 to 31 to catch the early premier of Petite Etrangere. If your schedule is tight, no sweat! Petite Etrangere will also be performed in Umeda Art Theater's Drama City scheduled on September 5 to 7 in Osaka. Tickets are priced at 6,800 JPY (66.31 USD) each.