Brand New Sailor Moon Anime Gets Rescheduled… Again.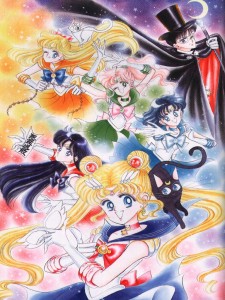 After all the drool-worthy items released, after all the mounting excitement, and after all this waiting, the 2014 Sailor Moon (美少女戦士セーラームーン) anime gets rescheduled yet again. This news was announced via the official Sailor Moon website on January 10, 2013. The brand new series was once scheduled on the Summer of 2013 but was moved to Winter of 2013 and ultimately on July of 2014 as reported.
While this news will be a bit of a let down, fans will have to endure much more time in waiting for the series's release. With the story line set to be a fresh take on the original manga series, more hopes spawn from fans with this information including more Sailor V (セーラーV) content. Sailor Moon is well taken care of as it has a great staff to go with it. Toei Animation (東映アニメーション株式会社) is producing the series once again as it previously did with all five (5) of the original Sailor Moon seasons with Munehisa Sakai (境 宗久) as the director from the One Piece (ワンピース) fame. Yuji Kobayashi (小林雄次) is also part of the team as the head of the series composition. The most remembered anime theme of all time, Moonlight Densetsu (ムーンライト伝説), will be sang by Japanese girl group Momoiro Clover Z (ももいろクローバーZ).
Die hard Moonie, the Heartless Eponine, has written a heartfelt blog about the new series. Read on and chin up Moonies! This will be a great series if it's taking long to finish!
Credits go to the one and only Naoko Takuechi for the beautiful manga art. ♥ Image found over at angelfire.com.