Beelzebub To Air Its Final Episode On March 25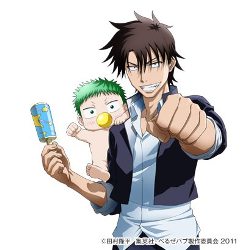 The official Beelzebub Twitter account has announced that the final episode for Beelzebub will be released this coming March 25. The anime ends with a total of 60 episodes.
Beelzebub tells the story of juvenile delinquent Tatsumi Oga, a fresh man student from Ishiyama High. Oga frequently gets challenged in fights by various challengers in which he comes out winning. Call it fate, call it destiny, but his barbaric personality attracted Kaiser de Emperana Beelzebub IV to him. Oga found him inside a man floating down a river. When Oga delivered a karate chop that split the man open did he see the perpetually naked baby with the enormous yellow binky.
Also known as "Baby Beel", the green haired child Oga found was actually the son of a Demon King and was sent to the human world to destroy it. But due to the fact that his demonic characteristic made Baby Beel feel right at home, Oga became the reluctant baby sitter of Baby Beel.
Beelzebub author and illustrator Ryuhei Tamura, however, has said that his original manga will still continue and has announced that the final episode is entitled "Sayonara wa Iimasen" or "We Don't Say Farewell".
Mark your calendars and don't miss the final episode of Beelzebub!