Award Winning Manga Gets Anime Adaptation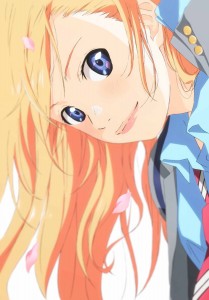 I met the girl under full-bloomed cherry blossoms and my life began to change.
A brand new anime to watch out for is the animated take on the award winning manga by Naoshi Arakawa (新川直司), Shigatsu wa Kimi no Uso (四月は君の嘘). The series is known for bagging the Best Shounen Manga at the 37th Kodansha Awards (講談社漫画賞).
Literally known as April is Your Lie, Shigatsu wa Kimi no Uso follows the story of Arima Kosei. Arima Kosei is a powerful piano prodigy who has bowled musical competitions and has gained fame for it. When he lost the one person who taught him how to play the piano to death, his very own mother, Kosei breaks down in the middle of a performance and eventually stopped playing the instrument. Two years have passed and Kosei still hasn't played the piano. Ultimately, his view on life has also changed. All of this changed when Miyazono Kaori, a happy-go-lucky violinist, comes into his life.
The official preview of the anime has been uploaded on March 21 on noitaminaofficial. The video, which spans for a minute and 25 seconds, shows us as well as a quick introduction on the series. Got your curiosity piqued? The watch the video below and get your fill of this up and coming anime!