Astro Boy's 60th Anniversary Commemorated With Collectable Figure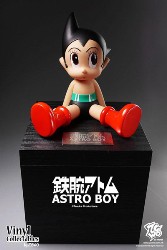 Osamu Tezuka's little robot wonder, Astro Boy, celebrates his 60th year in the anime and manga industry. And what better way to celebrate than with a collectable figure!
ZCGirl's ZC World has released their 60th anniversary Astro Boy model. The figure stands at a good 7 inches tall with Astro Boy sitting on top of a box and is made out of sturdy PVC.
Astro Boy, or Tetsuwan Atom (鉄腕アトム), is just one of Tezuka's very famous and highly acclaimed creations. Its phenomenal success began as a manga in April 1952 which lasted until March of 1968. The manga reached a total of 23 volumes and an anime series followed in 1963.
A combination of action, adventure, science fiction, and even a little bit of drama, Astro Boy's story took the world by storm. World reknowned roboticist, Dr. Umataro Tenma (天馬午太郎), fashioned a robot child after his son, Tobio, whom he lost in a car accident. Seeing that his creation will never replace his deceased child, Dr. Tenma sold his robot to a salesmen called Hamegg and soon, ends up performing in a circus. Gentle Professor Ochanomizu (お茶の水博士) took notice of the little robot in the circus and decided to adopt him and that is how Astro Boy came to be. Professor Ochanimizu soon realized how special Astro Boy is: a rare one-of-a-kind robot that not only has super powers but can also express and feel human emotions as well.
While the figure is sold at a price of ¥12,000 or 147 USD at most retailers, you should be able to shop around to find a better price.