Asgard Anime Vault: Slam Dunk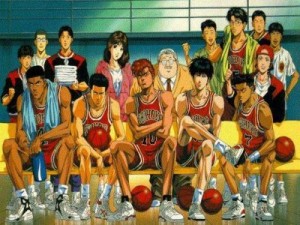 UNBELIEVABLE!!!
The Asgard Anime Vault celebrates old school anime that certainly made every 90′s otaku proud have lived those years as well as introduce young otakus to these great titles. This week, Asgard visits the basketball court to go one-on-one with Slam Dunk (スラムダンク)!
Enter Hanamichi Sakuragi (桜木花道). Standing at 6'2.5″ with the brawns to match, Sakuragi is a feared student delinquent and the leader of his "gang" composed of his friends. For some reason, Sakuragi is highly unpopular with the ladies. His 50th rejection made him dangerously moody until he saw Haruko Akagi (赤木 晴子).
Pretty, kind, and sweet, Haruko Akagi found so much potential in Sakuragi as a basketball player. Sakuragi on the other hand, found a new love interest. In order to impress Haruko, Sakuragi joins the Shohoku Basketball Team. Sakuragi then forms a one-sided rivalry with the team's star Kaede Rukawa. The extremely good looking has every girls eyes on him, including Haruko's. Will Sakuragi be successful in both in the basketball court as well as Haruko's heart?
Created by Takehiko Inoue (井上雄彦), Slam Dunk is one of Japan's successful sports themed manga and anime franchise. It was so successful that in 2010, Inoue recieved a special award from Japan Basketball Association for helping raise basketball's popularity in Japan. Slam Dunk first made its appearance as a manga in Weekly Shonen Jump in 1990. The manga ran upto 1996 with a total of 31 volumes. Three years after the first release of the manga, Slam Dunk earned an anime take and was an instant hit. The anime ran from 1993 to 1996 and has a total of 101 episodes.
If you're a fan of sports anime, give Slam Dunk a go. It has the perfect mix of sports action, comedy and even drama. For basketball newbies, it even has short, educational clips. Watch and learn and you just might be the next genius basketball player.
Is it just me or does Hanamichi Sakuragi look like and act like Yu Yu Hakusho's Kazuma Kuwabara?