Ao Haru Ride Adds Anime And Live-Action Adaptation To Series Franchise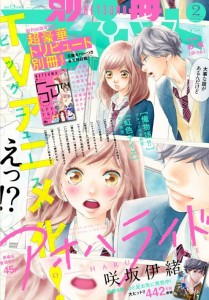 Io Sakisaka's (咲坂伊緒) famous shoujo manga, Ao Haru Ride (アオハライド), is getting not one but two awesome adaptations scheduled for the year 2014! What began as a manga published in Bessatsu Margaret (別冊マーガレット) in the year 2011 will have an anime version scheduled for release on July 2014 while a live-action film is set for December of the same year.
Ao Haru Rides revolves around high school girl Yoshioka Futaba's (吉岡 双葉) life. The once lady-like and adorable Futaba overhauled her image the moment she reached high school because of two reasons: being too feminine and cute has set her completely far flung from the company of female friends and her once blooming romance with a boy named Tanaka Kou was lost due to a complete misunderstanding. Futaba meets Kou again in high school but the gentle boy she fell for in middle school has changed his name to Mabuchi Kou (馬渕 洸) after his parents divorce and the events transpired him to have a 360 degree turn in his personality.
Maaya Uchida (内田 真礼), who voiced Rikka Takanashi (小鳥遊 六花) from Love, Chunibyo & Other Delusions (中二病でも恋がしたい! ), will provide the voice for Yoshioka Futaba. Futaba's love interest, Mabuchi Kou, will be voiced by Yuki Kaji (梶 裕貴) who is popularly known for giving life to Eren Jaeger (エレン・イェーガー) from Shingeki no Kyojin (進撃の巨人). On the live-action take, actress and model Tsubasa Honda (本田翼) fills in Futaba's shoes with Masahiro Higashide ( 東出昌大) as Kou.
A preview of the anime has been released courtesy of TOHO animation's official Youtube channel. Check out the 35-second teaser below.