Anime/Manga Inspired Food News, Vol. 2: Cakes, Crepes And Themed Bar Food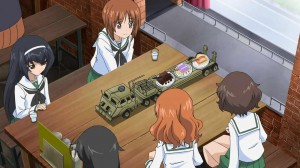 If you're feeling hungry, reading this might make it worse. So grab a bag of chips and a can of soda because Asgard Anime is bringing you Anime/Manga Inspired Food In The News, Volume 2 and we're starting off with this way special Girls und Panzer (ガールズ&パンツァー) cake tutorial.
A Japanese Girls und Panzer fan uploaded a video on Youtube that teaches viewers how to bake a tank-shaped cake inspired by the Turtle Team's (カメさんチーム) Hetzer. The video which runs for nearly 6 minutes, was uploaded by Youtube user, ushisanbutasan. The video is complete with a recipe and a step-by-step guide on how to make it. You can watch the video below to see how it is made and who knows? You just might be inspired to make your own Girls und Panzer cake!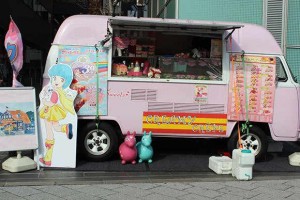 Creamy Mami, the Magic Angel (魔法の天使クリィミーマミ) knows that a geat way to celebrate is to have food for everyone to enjoy. The magical girl themed anime is celebrating its 30th anniversary with a crepe stand. The pink Creamy Mami stand is in the form of a van complete with official Creamy Mami art and food that's too good to eat. Parked at Shinjuku Marui Annex, the Creamy Mami stand sells not only crepes but also macaroons that should probably be better off preserved for all eternity. The Creamy Mami 30th anniversary stand will be available until March 29, 2013.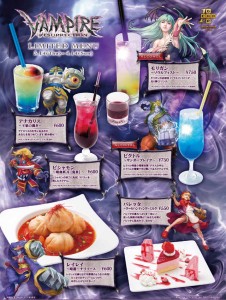 Last but not the least is a not an anime nor manga entry but is definitely one of the best video games that ever made its way to the nearest arcade! In celebration of the latest Darkstalkers (ヴァンパイア) entry, Darkstalkers Resurrection (ヴァンパイア リザレクション), Karaoke Pasela and Capcom Bar are now offering fans a cool Darkstalkers-inspired menu! On the Capcom Bar corner, fans have a choice of Morrigan's Soul Fist drink to Lei Lei's Anki Chili Sauce. On the other side of the ring, Karaoke Pasela offers Felicia's Hell Cat drink and even Sasquatch's Big Brunch Creme d'Anjou. Head on down to any of these bars and get your fill of the Darkstalkers!