Anime Voice Actress Group Takes Part In Rice Festival With Their Own Brand Of Rice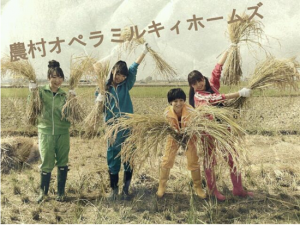 Rice has always been a huge part of Asian meals; it is stapled in the Asian diet and no meal is complete without it. In Japan, Rice Festivals and anime voice actress unit Milky Holmes from the anime Tantei Opera Milky Holmes (探偵オペラ ミルキィホームズ) decided to join in on the festival with their own brand of rice!
The girls of Milky Holmes has come up with their own brand of rice called Milky Rice. The Milky Rice is an improved version of a high quality rice called Koshihikari (越光). When Milky Rice was ready for harvest, it was the girls themselves who worked the fields and harvested the rice.
Milky Holmes (the voice actress group) is made up of 4 members. Suzuko Mimori, Sora Tokui, Mikoi Sasaki and Izumi Kitta provide the voice for the Tantei Opera Milky Holmes characters Sherlock "Sherly" Shellingford (シャーロック・シェリンフォード), Nero Yuzirizaki (譲崎 ネロ), Hercule "Elly" Barton (エルキュール・バートン) and Cordelia Glauca (コーデリア・グラウカ) respectively.
Tantei Opera Milky Holmes pays tribute to the greatest fictional detectives in which the characters were named after from. Milky Holmes is a detective agency run by Opera Kobayashi in Yokohama. Made up of Sherlock Shellingford, Nero Yuzurizaki, Hercule Barton and Cordelia Glauca, these girls attend the Holmes Detective Academy with their supernatural ability called Toys (トイズ).
Milky Rice will be sold for 2000 JPY (25.40 USD) per bag and the first 100 bags will be handed out by the girls themselves. Don't miss out the Okome Matsuri on November 18, 2012 in Yokohama, Japan! Head on down to the official Okome Matsuri website for more info.