Animax Carnival 2012 To Take Place In Malaysia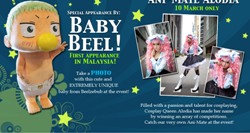 Japanese anime channel Animax will hold its first ever anime carnival in Malaysia on March 10 and 11, 2012. This two-day event is jam-packed with fun activities that should keep anime fans constantly on their toes.
On the official Animax website, March 10 will be open solely for Astro customers and cosplayers from 12PM to 6PM. Non-Astro customers have to be in cosplay attire for them to gain entry to the event. Filipino Cosplay Queen, Alodia Gosengfiao, will make an appearance on the same day and she will take part of the judging of the cosplay competition. The second day of the Animax Carnival 2012 will be open to the public, including ONECARD holders.
Take part in the carnival games such as Hook & Fish, Smash the Can and Plinko or even stage games such as the Ninja Challenge, Control the Robot and Secret Stage so you can take home prizes that range from official anime merchandise to surprise goodies. But for those who want to take home a bigger prize, come and join in the cosplay competition and stand a chance to win US$ 250 + US$ 300 worth of prizes.
Head on down to Malaysia and witness this huge anime event. For more information, visit the Animax website.