Animax Asia Holds City Hunter Watch 'N Win Contest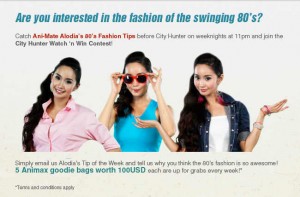 Animax Asia celebrates the premiere of the 1987 Anime hit, City Hunter with a contest!
The mechanics are simple: tune in to Animax Asia and look for Ani-mate Alodia Gosiengfiao's 1980's fashion tips which will be shown before City Hunter is presented. Once spotted, email Alodia's Tip of the Week with an answer to the question why the 80's fashion is awesome to contests@animax-asia.com.
Alodia Gosiengfiao is the Cosplay Queen of the Philippines. She began cosplaying in 2003 and was widely known since then for her victorious win at the C3 Convention as Rikku from Final Fantasy X-2.
Cosplaying brought Gosiengfiao, 24, to great heights. Not only is she recognized as a sought after product endorser, but also as a celebrated TV personality. Although Gosiengfiao is known locally in Philippine television for co-hosting a gag show in ABS-CBN entitled "Laugh Out Loud", she is highly known as the ambassador and VJ of Animax Asia as an "Ani-Mate".
In the City Hunter Watch 'n Win contest, five (5) lucky winners will be chosen every week and contestants will stand a chance to win an Animax Asia goodie bag worth 100 USD. The contest starts on June 6 and ends on July 3.
Don't miss this opportunity! Visit the official Animax Asia website here for more information.