Animax Asia Holds Anime Daisuki Contest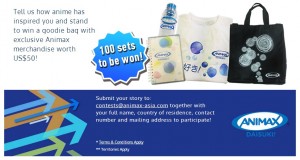 "Were you ever moved by an anime that it entirely changed your life? Has anime always been a source of inspiration for you? If your answer is yes, we want to hear your story!"
If Animax Asias's contest tag line hasn't got your attention yet, it's high time that it will! Animax Asia is holding an Anime Daisuki Contest, letting contestants share their life changing experiences and inspirations thanks to anime. During commercial breaks, Animax Asia airs clips about widely known seiyuus and singers professing their love for anime. These famous personalities include voice actors Daisuke Kishio (岸尾 だいすけ) and Ayaka Ohashi (大橋 彩香) as well as singers Faylan (飛蘭) and May'n (メイン) just to name a few.
Contest rules are fairly simple to follow. Interested contestants should compose an email of no more than 500 words containing their story as to how anime has inspired their life. The entries should then be sent to contests@animax-asia.com. 100 winners will be chosen and contestants stand a chance to win an exclusive Animax-Asia goodie bag worth 50 USD!
What are you waiting for? Stop reading and start sharing your anime-inspired life! If you're stuck and you don't know where to start, watch these videos below courtesy of Animax Asia to help you get started. For more information, please visit the official Animax-Asia Anime Daisuki contest page.