Akira Toriyama Provides Doodles For Japanese Nu Metal Band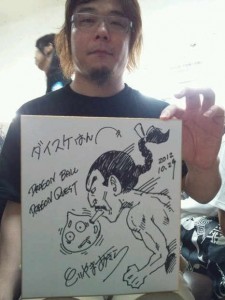 If you don't know Akira Toriyama (鳥山 明,), then you don't know Dragon Ball (ドラゴンボール). The legendary manga artist that gave us Son Goku (孫 悟空) and the rest of the Z Warriors met up with Japanese nu metal band, Maximum The Hormone (マキシマムザホルモン), at Electric Lady Land in Nagoya, Japan last October 29, 2012.
Toriyama, 57, agreed to give the band sketches of his creations from Dragon Ball to Dr. Slump (Dr. スランプ) after the back stage meeting to which the excited band members shared their rare goodies on social networking website, Twitter.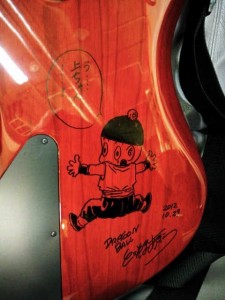 Maximum The Hormone has been around the music scene since 1998. The was originally formed by vocalist Daisuke "Daisuke Han (ダイスケはん)" Tsuda (津田 大輔) and drummer Nao Kawakita (川北 奈緒). The band has experienced change of line-ups as well as a number of hiatus over the years but now they are back and are performing again with bassist Futoshi "Ue-Chan (上ちゃん)" Uehara (上原太) and guitarist Ryo "Maximum The Ryo (マキシマムザ亮君)" Kawakita (川北 亮). While the band has provided themes for Air Master, Akagi and even Death Note, they also performed a song that pays tribute to Toriyama's most famous Dragon Ball villain, Freeza (フリーザ).
Check out Maximum The Hormone's official Twitter account for more of their Akira Toriyama meet up experience.
http://youtu.be/c_E_KbAZ6xw