Akira At The Los Angeles Animation Festival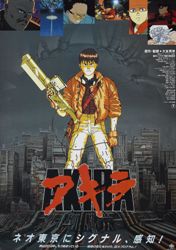 The Los Angeles Animation Festival is an annual event that celebrates animation at its finest. Now celebrating its third year, the LAAF has announced that Akira will be part of the presentations. Akira is the only anime title presently being screened by the LAAF.
Akira is a huge Japanese anime classic that was released in the year 1988. It showed the world that anime isn't just about classic novel interpretations or giant robots protecting the earth from an alien threat. The movie revolves around a boy named Akira who was a part of the government's ESP experiment. When he lost control of his powers, Akira destroyed Tokyo in with a massive explosion. On the year 2019, 31 years after the explosion, a boy named Tetsuo Shima shows the exact same abilities Akira once had. Akira was based on the manga with the same title by film director and mangaka (comic book artist) Katsuhiro Otomo.
Akira will be presented on March 8, 2012 at the Regent Showcase, Los Angeles by Sean Lennon, the singer/songwriter son of Beatles legend, John Lennon. Watch Akira and know why this became a huge hit! Grab your tickets and mark down your calendars for March 8.
Tickets are available at the official LAAF website.