Akame Ga Kill! Cast Announced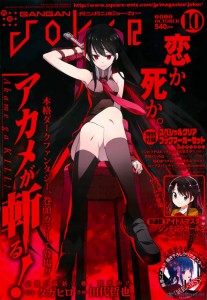 If hardcore action is your thing, then you'll like Akame ga Kill! (アカメが斬る!). This shounen manga, known for its brutal action scenes, is getting an anime adaptation and the voice acting cast has already been announced! TOHO Animation has uploaded the 30 second clip of the preview in their official Youtube channel and has currently garnered more than 20,000 views.
Akame Ga Kill tells the story of Tatsumi (タツミ) who goes on an adventure to the Capital to help bring monetary aid to his village. Luck wasn't on his side as Tatsumi was robbed by a woman. A girl named Aria comes to his aid by giving him a place to stay. By night fall, Aria's place has been attacked by the Night Raid and one of the assassins reveal that Aria kidnaps and tortures villagers for fun which leads to Tatsumi killing Aria himself. The Night Raid sees potential in Tatsumi and takes him in.
Soma Saito (斉藤 壮馬) will take on the lead as Tatsumi's voice actor with Sora Amamiya (雨宮 天) providing the voice for Akame (アカメ). Other members of the Night Raid that will also appear in the anime are Braht (ブラート), Leone (レオーネ), Mein (マイン), Najenda (ナジェンダ), Schere (シェーレ) and Rabac (ラバック) who will be voiced respectively by Katsuyuki Konishi (小西 克幸), Yu Asakawa (浅川 悠), Yukari Tamura (田村 ゆかり), Risa Mizuno (水野 理紗), Mamiko Noto (能登 麻美子) and Yoshitsugu Matsuoka (松岡 禎丞).
Akame Ga Kill! is another great anime title to watch out for in July. We have the preview below for your viewing pleasure.