Ah! My Goddess! Makes A 2013 Comeback With Special OVA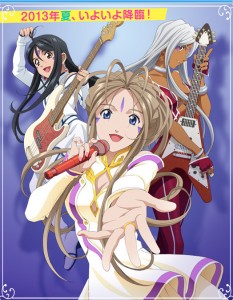 Belldandy (ベルダンディー), Urd (ウルド) and Skuld (スクルド) are back as a special news of an Ah! My Goddess! (ああっ女神さまっ) OVA will be released soon and Kodansha (株式会社講談社) has given fans both new and old a sneak peak of the OVA.
Keiichi Morisato (森里 螢一) is one of your normal, everyday college sophomores who has little to no experience when it comes to women. One day, Keiichi accidentally calls up the Goddess Relief Office and right before he even has the chance to comprehend everything that was happening, a beautiful goddess named Belldandy appears in his room and offers him a single wish.
Ah! My Goddess was a manga series by Kosuke Fujishima (藤島 康介), the same name who also gave us You're Under Arrest (逮捕しちゃうぞ). It first appeared in the pages of manga magazine, Afternoon (アフタヌーン), in November 1988 and is still an on-going series with the latest chapters published in tankobon (単行本) form and is still published by Kodansha. A tankobon is an independently published book; think of it as how western comic books are published. While the manga has 46 volumes and counting, with the 46th to be released two months from now, Ah! My Goddess also has spawned an anime and OVA series.
Check out the video below to see the trailer. What would you have done if a goddess (or god, for the ladies) appears in your room and grants you a single wish?