Patisserie Swallowtail White Rose Now Offers Accel World And Sword Art Online Sweets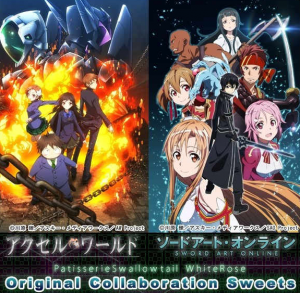 Good news to Accel World (アクセル・ワールド) and Sword Art Online (ソードアート・オンライン) fans! Japanese Butler cafe, Patisserie Swallowtail White Rose (-パティスリースワロウテイル ホワイトローズ-), is now offering sweets based on the famous anime/light novel franchise by Reki Kawahara (川原礫)!
The Accel World and Sword Art Online menu includes character cookies from both series, their price ranging from 300 to 630 JPY. There are also decorative cakes available, both are priced at 680 JPY each. These delectable goodies will surely make a fan afraid of eating them.
Accel World tells the story of Harayuki Arita (有田 春雪). Also known as Silver Crow (シルバー・クロウ), Haru is often tormented by bullies, thus resulting in a very low self-esteem. His life changed when he met Black Snow Princess (黒雪姫), the Vice President of their school's Student Council. Black Snow Princess, or Kuroyukihime, seeks the help of Haru in order for her to reach level 10 of Brain Burst so she can unlock the mysteries of the game.
Sword Art Online is another video game based novel which tells the story of Kazuto Kirigaya (桐ヶ谷 和人), otherwise known as Kirito (キリト), who, along with a multitude of other players, are stuck in the video game Sword Art Online because of the new rules of the game. As the players are connected through a virtual reality helmet called a Nerve Gear, death in the game also means death in the real world. Kirito soon meets a fellow player named Asuna (アスナ) and the two eventually fell in love with each other as they try to escape the realms of the video game.
Patisserie Swallowtail White Rose is located in Komatsu 1F, 1-14-11 Higashi-Ikebukuro, Toshima-ku, Tokyo, Japan. You can also reach them through telephone through this number 03-5979-7531. For more information, head on down to the Patisserie Swallowtail White Rose website by clicking here.